Honda Car Rentals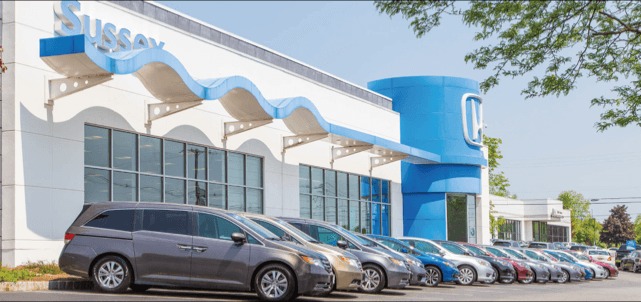 Sussex Honda Car Rentals
In an Accident? Taking a trip or vacation? Family or friends in town? Stop into Sussex Honda and take advantage of our hassle-free rental service! Choose the Fit, Civic, Accord, HR-V, CR-V, Odyssey, Pilot or Ridgeline.
Honda Car Rental Pricing
Now you can rent a Honda by the day from Sussex Honda! Choose from the Fit, Civic, Accord, HR-V, CR-V, Odyssey, Pilot, and Ridgeline. Best of all, the first 500 miles are included with the normal rate!
Car Rental FAQ
What Is Required To Rent A Vehicle?
Minimum age is 25 years old.
Valid Drivers License (International drivers require a International License)
Must have full coverage insurance that transfers to a rental vehicle (liability, comprehensive, and collision)
Major Credit or Bank Issued Debit Card in the Renters Name (We do not accept cash or pre-paid cards)
$200 deposit on all retail rentals
Maximum of 28 days on same contract
Do you require a deposit?
We take an "authorization" (deposit) on your credit card at the time of rental for the total rental charges plus $200 as a security deposit. The $200 security deposit is released once the vehicle is inspected by a rental representative at Sussex Honda and returned in the same condition at check out and a full tank of gas. Most credit card companies release your funds back to your account within 24-72 hours; please contact your credit card provider should you have questions.
How many miles are included in each rental contract?
Each rental contract includes 500 miles. Additional miles cost $0.15 per mile.
Is smoking allowed in rental vehicles?
All of our vehicles are 100% smoke free. A smoking fine of $250 (plus damages) will be applied if there is any evidence of smoking in our rentals.
Can I transport my pet in a rental car?
In order to keep our vehicles in pristine condition for all of our customers to enjoy, we do not allow pets in our rental vehicles.
Can I tow a trailer or my boat with a rental vehicle?
We do not allow towing in any of our rental vehicles.
What taxes or additional fees should I expect?
All rules, charges and penalties are clearly stated when you get the keys to your rental car and are clearly detailed on your rental contract.
Optional Services and Entertainment
Additional Driver(s) – $10.00/per day/per driver. All drivers must be authorized and qualify to drive.
FUEL OPTIONS: WE DO NOT REFUND OR CREDIT FUEL. PRE PAY for a full tank of gas at our discounted current daily gas rate. Refuel at your expense to a FULL tank of gas before returning. Vehicle returned without a full tank of fuel will be subject to a premium fuel charge.