2019 Honda CR-V Maintenance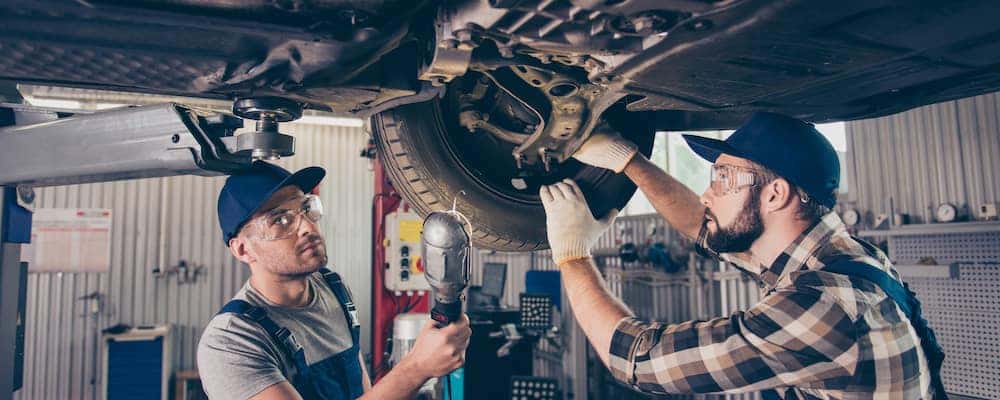 Keeping up with your 2019 Honda CR-V maintenance is crucial for the performance and longevity of your vehicle. Routine oil changes are a given, but there is much more necessary Honda CR-V service that will keep your CR-V running smoothly around Sparta Twp. Check out the Honda CR-V maintenance intervals of which to take note!
Every 7,500 Miles
At each 7,500-mile interval, make sure to complete the following Honda CR-V maintenance:
Oil and filter change
Brake inspection
Throttle linkage lubrication
Fluid levels check and recap
Tire inspection and tire pressure adjustments
Tire rotation
Every 15,000 Miles
When you hit the 15,000-mile milestone, these maintenance tasks must be completed:
Chassis and hinge lubrication as needed
Oil drain plug and gasket replacement
Wheel and tire rotation and balancing
Undercarriage, crankcase, and shocks and struts inspections
Throttle body mount bolts torquing and throttle leakage inspection
Distributor cap-rotor-wires inspection
Transmission service
Lights and wipers inspections
Air filter and air conditioning filter replacements
Steering system checks
Spark plug replacements if necessary
Parking brake adjustments
AC and heater operation inspections
Drive shaft bolt and propeller shaft bolt re-torquing
Drive belts inspection and adjustment
Exterior and interior lamp checks
Windshield wiper inserts replacement
Every 30,000 Miles
Complete the following services at each 30,000-mile mark:
Leak inspections
Engine coolant replacement
Battery service and cable cleaning
Exhaust pipes and mountings inspections
Brake line, hoses, linings/drums, and pads/discs inspections
Transmission fuel or oil checks
Coolant hoses and clamps inspection
Exhaust pipes and mountings inspection
Spark plugs replacement
Fuel tank cap gasket inspection
Air filter elements inspection
Road test and quality control
Schedule Honda CR-V Service at Sussex Honda
Sussex Honda is here for all of your Honda CR-V service needs, whether it's keeping up with your Honda recommended maintenance schedule or learning how to change your wiper blades. We can even break down the Honda CR-V safety ratings, or set you up with one of our Honda CR-V lease deals or used Honda CR-Vs for sale so that you can hit the streets of Denville in style with the color you want!
More from Sussex Honda
Sparta Twp and Hackettstown drivers in search of an SUV that can keep you moving while also offering plenty of features to take your commute to the next level are sure to be impressed by the fully loaded Honda Pilot LX interior features. No matter if you're looking for more cabin space for passengers and storage…

Sparta Twp and Hackettstown drivers looking for a reliable sedan to keep them safe will surely be impressed by the 2019 Honda Civic safety ratings from some of the auto industry's most reputable safety organizations. But that's just the beginning, as this sedan also comes equipped with a full suite of driver assist features to offer…

If you're looking for some extra strength on the job site, then the 2019 Honda Ridgeline towing capacity offers plenty of assists. And, since you need a pickup truck to meet your specific towing needs, the Ridgeline comes in several trim levels with varying drivetrains and performances. Join Sussex Honda to break down the Honda Ridgeline…